PRX-T33® – NO NEEDLES BIOREVITALIZER?
A revolution in skin bio-revitalisation PRX-T33® will leave your skin feeling firmer, tighter, lifted and with an enviable glowing appearance. It is a skin rejuvenator and biostimulator that is unique. It is not a peel, nor is it an injectable but a gel that, applied with a specific technique, provides immediate aesthetics improvement and deep hydration. It is in the same category as a medical peel and benefits from the same results, however, with this treatment you do not peel so there is no downtime.
Due to the unique composition of PRX-T33®, the solution very quickly, almost instantly penetrates the dermis, activates all the processes of skin regeneration/renewal, however, does not damage the epidermis at all.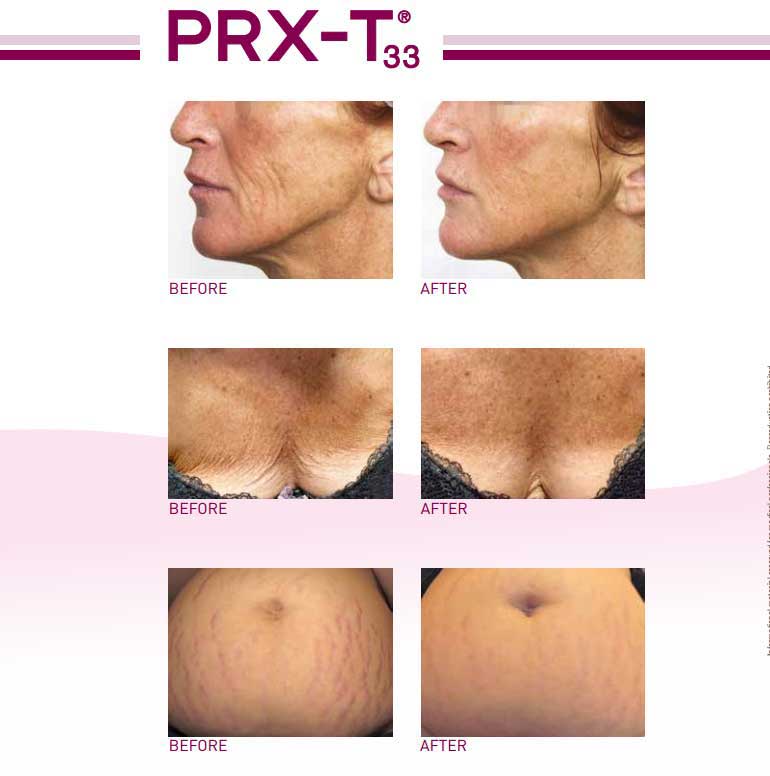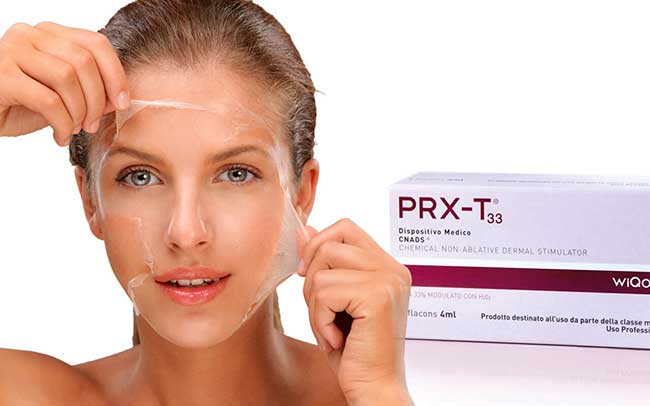 WHAT MAKES PRX-T33® UNIQUE?
No needles
Painless
No peeling
Easy to perform aftercare
Your social life is not affected
Non-photosensitising it can also be used during the summer months
Provides immediate palpable firming
HOW DOES IT WORK?
Low dose hydrogen peroxide "protects" the tissues and enhances the affinity for the growth factor receptors. TCA at 33% is a powerful peeling agent and without the addition of hydrogen peroxide would cause considerable frosting and peeling for several days. However, the addition of hydrogen peroxide allows the TCA to permeate beneath the epidermis to reach the dermis.
At this level it stimulates both keratinocyte and fibroblast growth factor activity. The healing response begins and is accompanied by a visible improvement immediately after the treatment – but with no pain or downtime.
QUESTIONS & ANSWERS
What conditions and skin types can be treated with PRX-T33®?
Loss of firmness of the skin on face, neck, décolletage and hands etc.
Hyper-pigmentation (sun damage, age, acne)
Scars and stretch marks
Prevention and treatment of facial skin photo-ageing
Suitable for all skin types
How Many Treatments will I need?
Depending on the quality of the skin area being treated and the concern, treatment amounts can vary. Generally, it is advised 5 separate treatments approx. 1-3 weeks apart. Why not book a free consultation so that your skin needs can be assessed accurately.
Who can have this treatment?
Suitable for both females and males.
Do I need to apply extra protection from the sun following the treatment?
No, but you should of course use UV protection according to your skin type and weather conditions.
Is it painful?
No
Will there be any downtime?
No.
How long does the procedure take?
Approx. 30 minutes.
Can I have other treatments at the same time?
Yes, you can have treatments immediately after the PRX-T33® treatment (dermal filler, botox, skin peels etc.).
I have a course of treatment. How often do I attend?
Every 1 week to 3 weeks for the duration of the course.
Will I see a difference?
Yes, a visible improvement immediately after the treatment is noticeable. Treatment provides immediate firming.
Who cannot have this treatment?
Contraindication include: Pregnancy and lactation; allergy to any of the treatment components; damaged skin (i.e. small cuts, breaks, eczema), fresh wounds; skin infections and highly sensitive skin.
Address
loveSkin Clinic
324 Tottington Road
Bury
BL8 1TA